-
Weekend Mathematics Optional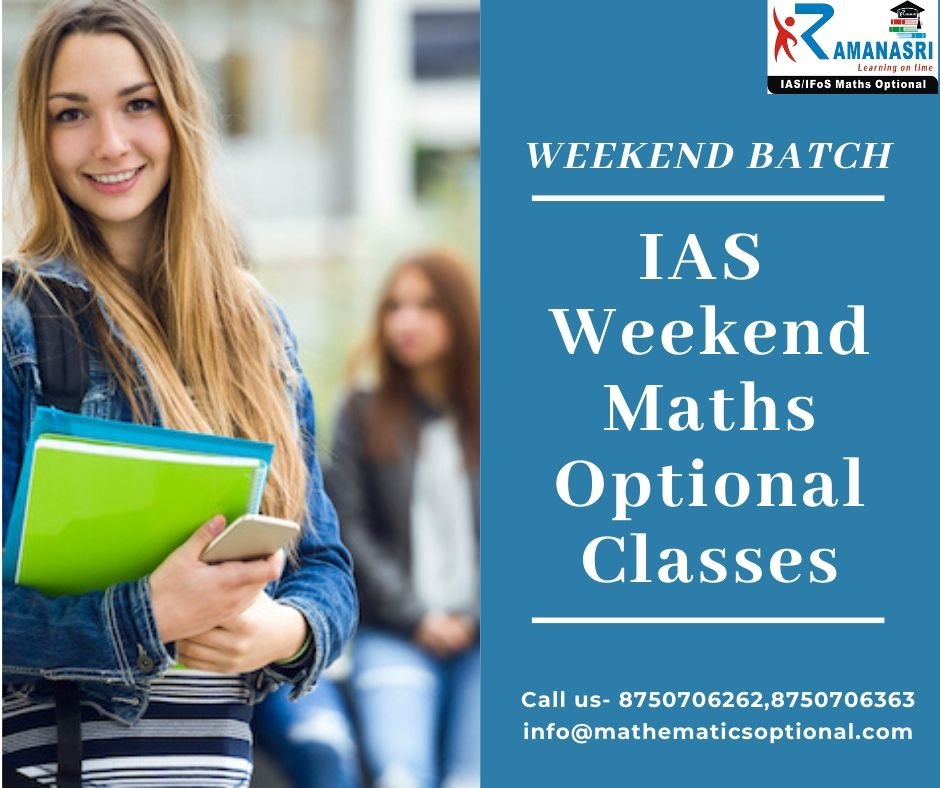 Weekend Mathematics Optional
1. WEEKEND CLASS ROOM MATHS OPTIONAL COACHING
If you are a working professional or college student who can't devote time on weekdays then joining a weekend classroom Maths optional coaching is the best choice. It offers flexibility for candidates so that they can prepare well. A proper strategy is a must for clearing exams. It is necessary to focus on the course syllabus. To make your task easier it is better to join coaching.
Ramanasri Maths optional coaching is the best institute for UPSC Maths optional. It will help you in every manner. It has weekend classroom Maths optional coaching. It is very affordable with flexible timings which match with students demands. The course is fully structured to meet the latest pattern of exams. Also, students are provided with reference material. This material is regularly updated based on the latest developments in the subject.
Ramanasri Maths optional coaching teaches the whole syllabus of Maths optional with the help of 13 modules. The duration of the course is for 6 months in which the entire syllabus is completed. This offers a chance to students to revise the whole syllabus after completion of the syllabus. In this way, students get an enhanced learning experience which ultimately helps them to score good marks.
Also, classes are conducted in an interactive manner where students get enough opportunity to communicate with the faculty. They are highly experienced and intellectuals from the field of education. All the concepts will be a cakewalk for you.
Past year papers are an important aspect of preparation. If you solve them then you are in a better position to answer the questions asked in the final exam. So be well versed with them. In addition to this, Ramanasri Maths optional coaching helps you to solve past year papers in the class itself. This gives an opportunity to practice a variety of questions with the help of the previous year's question papers. This is a fruitful exercise to get a grip over multiple questions.
You get access to test series which is exclusively for students of Ramanasri institute. These test series play a significant role in your preparation. With the help of them, you can analyze which all are topics at which you are good and strong. Also, you can look into the mistakes committed during the test. And try not to commit them to the final exam. In this way, you will be in a better position to score well. So, try to attempt as many test series as possible. This will be the way to crack the exam with flying colors .
So Ramanasri institute is the best institute to help you to sharpen your acumen and clear the exam. For fun and happy learning choose it and achieve your goals.
Ramanasri IAS is providing top best Maths Optional Weekend Coaching Classes in Delhi. We are teaching 13 Modules of Complete UPSC Maths Syllabus 2020.
Complete UPSC Maths Syllabus in 6 Months duration

Maths Optional Study Materials are free

Previous Year Questions Solutions from 1992 to 2019 and 2020 Explanations in the Weekend Maths Optional Coaching.

81 Maths Optional Test Series are free

For more sample videos you can click on this link:

Ramanasri IAS MATHS OPTIONAL Youtube Channel.

Click on this link for

Best Maths Optional Telegram Group

.
| | | |
| --- | --- | --- |
| | Lectures | 135 |
| | Duration | 6 Months |
| | Skill level | NA |
| | Language | English/Hindi |
| | Students | 20 |
| | Certificate | NA |
CURRICULUM
SECTION 1: Ramanasri IAS is providing top best Maths Optional Weekend Coaching Classes in Delhi. We are teaching 13 Modules of Complete UPSC Maths Syllabus 2020. Complete UPSC Maths Syllabus in 6 Months duration Maths Optional Study Materials are free Previous Year Questions Solutions from 1992 to 2019 Explanations in the Weekend Maths Optional Coaching. 81 Maths Optional Test Series are free For more sample videos you can click on this link: Ramanasri IAS MATHS OPTIONAL Youtube Channel. Click on this link for Best Maths Optional Telegram Group
Gmap Helper