INTRODUCTION
Key Features of Pen drive UPSC Maths optional
The following Special and salient features make us why we are different from the others in the market.
Teaching-based organization, quality Teaching with a focus on conceptual clarity
Permanent, full-time, highly qualified, and dedicated faculty
Prime focus on concept-building & Problem-solving techniques
Focus on Individual attention. Cooperative, caring administrative staff
Appreciable result ratio of successful student to enrolled students
The study materials have been thoughtfully curated in a plain and simple language that both bilingual and English-speaking students can grasp. The study materials align with the UPSC CSE syllabus and are updated frequently
Scientifically designed, clear, and precise study material
Ample questions capturing all flavors and difficulty level
Formula booklet for quick revision
Lots of home assignments for practice
Exclusive class tests for continuous assessments & improvement
Complete academic year planning at the start of the session
Include 81 test series.
Regular Tests (weekly / chapter-wise / phase / complete length / E-Test series)
A thorough discussion on each test in successive lecture
All tests will be evaluated and gives individual feedback
Fixed timetable
Individual doubt clearance sessions
Comfortable speed of syllabus coverage
Complete information on various competitive examinations
Motivational counseling sessions
The course duration is 7 months
The Course validity is for 11 months+1 months free from the date of joining
The classes will be run of your own time and space
Live Interactive doubt sessions/classes
Reasonable fees
Finishing the Syllabus in time 28-32 weeks Classes
For doubts, can contact us through WhatsApp and Zoom sessions
22 years of teaching experience in teaching Mathematics
Note 1: For any queries, please contact us at 8750706262
Pendrives Maths Optional Course and Ramanasri Maths Optional Coaching
A pendrive course is a great way to study when you're away from the classroom and don't have access to the internet. These courses are flexible and smooth, and you can take them on your laptop or smartphone. They also provide a great selection of study resources. Depending on your preferences, you can choose from a wide range of options.
The syllabus for UPSC's Maths Optional follows the same curriculum as other optional subjects in India. It requires a strong understanding of concept building and thorough revision. You must be willing to go to a lot of lengths to learn this subject. In addition, you must be passionate about the subject. If you're not passionate about math, you will have trouble developing and practising the concepts.
As a subject, maths is a logical language, so it's essential to understand how it applies to real-life situations. Understanding the logic of a problem and building concepts well will help you apply it when answering the exam. It will also ensure that you don't skip important steps in solving the problem. Since formulae are the backbone of maths, it's important to know how to use them. Prepare a formula sheet that you can refer to whenever you need to.
Pen Drive Mathematics Optional Course Classes for IAS, UPSC, IFS, IFoS, Civil Service Examinations will be available Now. You can watch these videos any no. of times in your Laptop or Desktop. Internet connection is not required at all. If you have an Internet connection then purchase our Online Mathematics Optional Program Course.
We have 4 kinds of plans namely, Silver, Gold, Platinum, and Double Platinum Pen Drive Mathematics Optional course. You can select any one of the following whichever is more suitable, comfortable, and convenient for you. The only difference between these plans are validity periods and price but the content is the same i.e., no videos. Why are you waiting, Please hurry up for your Maths Optional Preparation in your IAS selection?
62 Maths Optional Test Series are free during the course. Sub Modules-wise test- 40, Module wise tests -13, sectional-wise- 4 and complete full length test question papers -5
Enqure now on whatsapp +91 8750706262
Check out our Mains Test Series
Watch our videos at: Mathematics Optional Channel
1. What is the meaning of "Including all things"?
Ans: Including all things means that you will get free Maths Optional Study Materials, 18% Service Tax as per Govt India new rules, 4 types of free Mathematics Optional Test Series i.e., During the course, Revision Test Series, Mains Mathematics Optional Test Series before prelims and lastly Mains Mathematics Optional Test Series after Prelims.
2. What is the meaning of "Daily target" as in the mentioned table?
Ans: You have to finish the course on time. The average time we mentioned here is that to finish the Online Maths Optional course in time without any delay in finishing our Online Maths Optional Course. Maybe you can watch more or less depends upon your mood.
3.System Requirements?
Ans: Any Desktop or Laptop.
4. How to play videos through?
Ans: Just use your user name and password which we have given to you at the time of admission. detailed instructions are sent by email.
5.Can I extend validity later on?
Ans: As per your request we can extend the validity.
6.From which date my validity start?
Ans: Validity starts from the day when you receive the Pen Drive Mathematics Optional Course.
7. Anything I have to pay during the Pen Drive Course?
Ans: Don't pay anything in between once you have enrolled said the course.
11. Will Pen Drive Maths Optional Course work on Smartphone?
Ans: No, Pen Drive Maths Optional Course cannot work in Smartphone
12. Will Pen Drive Maths Optional Course work in Tablet?
Ans: No, Pen Drive Maths Optional Course cannot work in Tablets
13. Can I copy the videos to pen drive?
Ans: Yes, Of course, you can
14.Will Pen Drive Maths Optional work in two systems at the same time?
Ans: No, Pen Drive Maths Optional will work only in one system at a time.
15. Do I need the internet at the time of using the Online Maths Optional course?
Ans: No, Pen Drive Maths Optional course is completely Offline. You don't need any internet further.
16. What, If I need to format my system?
Ans: Yes, you can play videos afterward too There are no restrictions on the number of users. You can play videos on one system but only on one system at a time. As we mentioned before just login into your account to play Pen Drive Maths Optional videos.
17. What do you mean by validity?
Ans: Videos are encrypted with time validity. Videos won't play after given the validity of time.
18.What If your password forgot?
Ans: The user name is not changeable but the password you can change later. therefore if you forgot the password, then don't worry, we will give a new one but it will take 1 working day for us. simply you can email us.
Pendrive Fee structure : 52.500/-(study material + 62test series + including GST)
OFFLINE & ONLINE BATCH
Class duration: 2.5 hours
6 days a week class
Experienced and efficient faculty
Interactive classes
Free Orientation 13th June. 2023
Test Series included
Study material(Hard copy)
| Sr. No | Title | Description | Action |
| --- | --- | --- | --- |
| 1 | Math Optional brochure | | Download |
OUR Teaching Faculty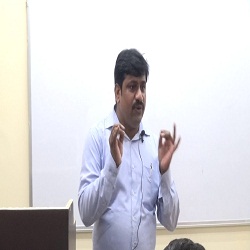 Ramanasri Sir
@ Ramanasri UPSC Maths Optional for IAS, IFoS(IFS), Civil Services Mains Exams
Director